Discover more from Curious Humans
Are you curious... and also human? Expect monthly round ups of brainfood, podcast conversations and mind-expanding ideas.
Over 2,000 subscribers
Emotional Resilience, Reverse Gratitude & The Cure for Anxiety
PLUS: Thoughts on Life's Slipstreams, Giving Yourself Away + An Ode To Friendship
Ahoy Curious Human 👋
I'm typing this miles above a baron Arctic ice-shelf // I've always loved flying since I was young, and somehow those sensations of childlike exhilaration have stayed with me to this day.
But what struck me today // seated by the window close to the wing—was the moment just before the aircraft wheels leave the runway and that invisible slipstream appears, shaping itself around the wing.
Those misty threads // only materialised once the plane had totally committed itself to the take-off and they continue to keep us all soaring above glacial rivers as I'm typing these words.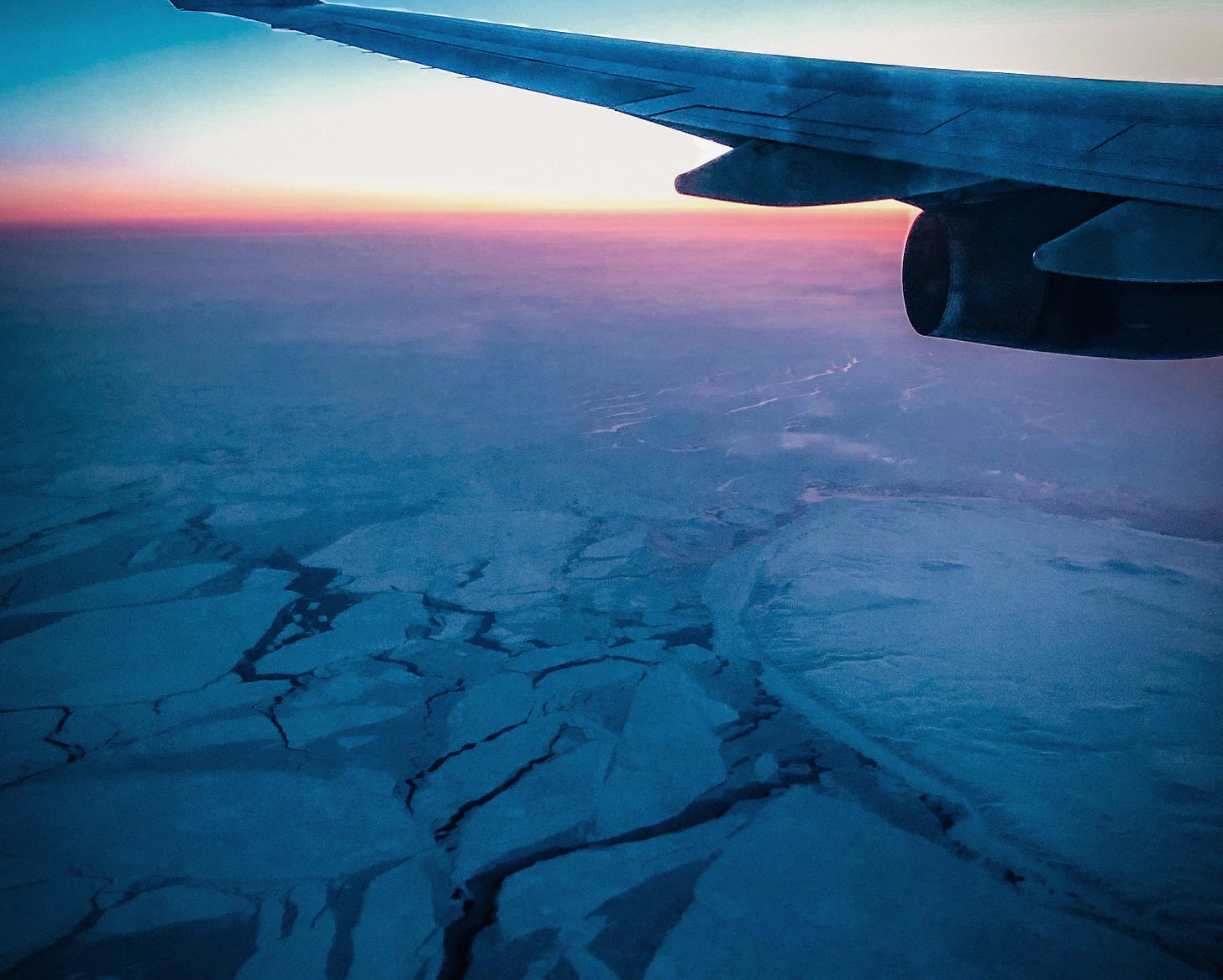 So my invitation to you is this // as you prepare to take off and propel yourself into the open skies of a new decade, take a moment to consider where those intangible currents appear in your life, and how you might orient your wings towards their flow.
Maybe those intangible currents // are the friends who are there for you when times get tough, the unexpected opportunities that appear when you are brave enough to commit to that take-off or simply the moments of inspiration that flow from a dedicated creative practice.
My experience has been // that staying alert to these slipstreams, pulls me towards a life that has the potential to be infinitely more wondrous than the limited horizons of pre-conceived goals I've spent so many of my days chasing.
---
I wish to extend a deep thank you // to those of you who have read and supported me from afar over the past 18 months. The conversations, support and companionship that have emerged from this space truly means the world to me.
Here's a question to ponder as you embark on this joy-filled lap around the sun:
'Who will you be, when you're finished being who you think you are?'
Stay Curious Out There,
Jonny
p.s. if you appreciate these updates, the best way you can support these Curious Human Creations is to contribute to, or share the Emotional Resilience survey mentioned below 🙏

---
🏔️
Embracing Emotional Resilience
A few months back (it almost feels like another decade), I wrote about my 'Makers Dilemma'—the decision to turn down a very tempting job offer, pledging instead to continue hacking my way through the thickets of the entrepreneurial pathless path.
Since writing those words and following my intuition (+ generous invitations) to various far-flung corners of the world, it seems that a way forward has emerged in the form of a mission that scares + excites me in equal measure.
Those of you who have been listening to the recent podcast episodes (or watched the TEDx talk) will have noticed a theme that emerged around what I've been calling 'radical curiosity'—the capacity to courageously enquire into our inner challenges and embrace life's obstacles as a source of growth.
So I'm now in the process of investigating, designing and facilitating workshops and retreats to build Emotional Resilience for startup founders & leaders.
One of my insights from last year was that I thrive when collaborating with others (and frankly it's more fun)—so with this in mind I'm excited to be teaming up with the talented humans over at Studio D.
Although he describes himself as a 'failed academic', the founder—Jan Chipchase—has crafted himself a career that enables him to plot expeditions, decode culture and essentially get paid to be professionally curious (Jan has also distilled his life's work and philosophies into this thoughtful 'Field Study Handbook' and runs a high-signal + satisfyingly minimal newsletter called RADAR).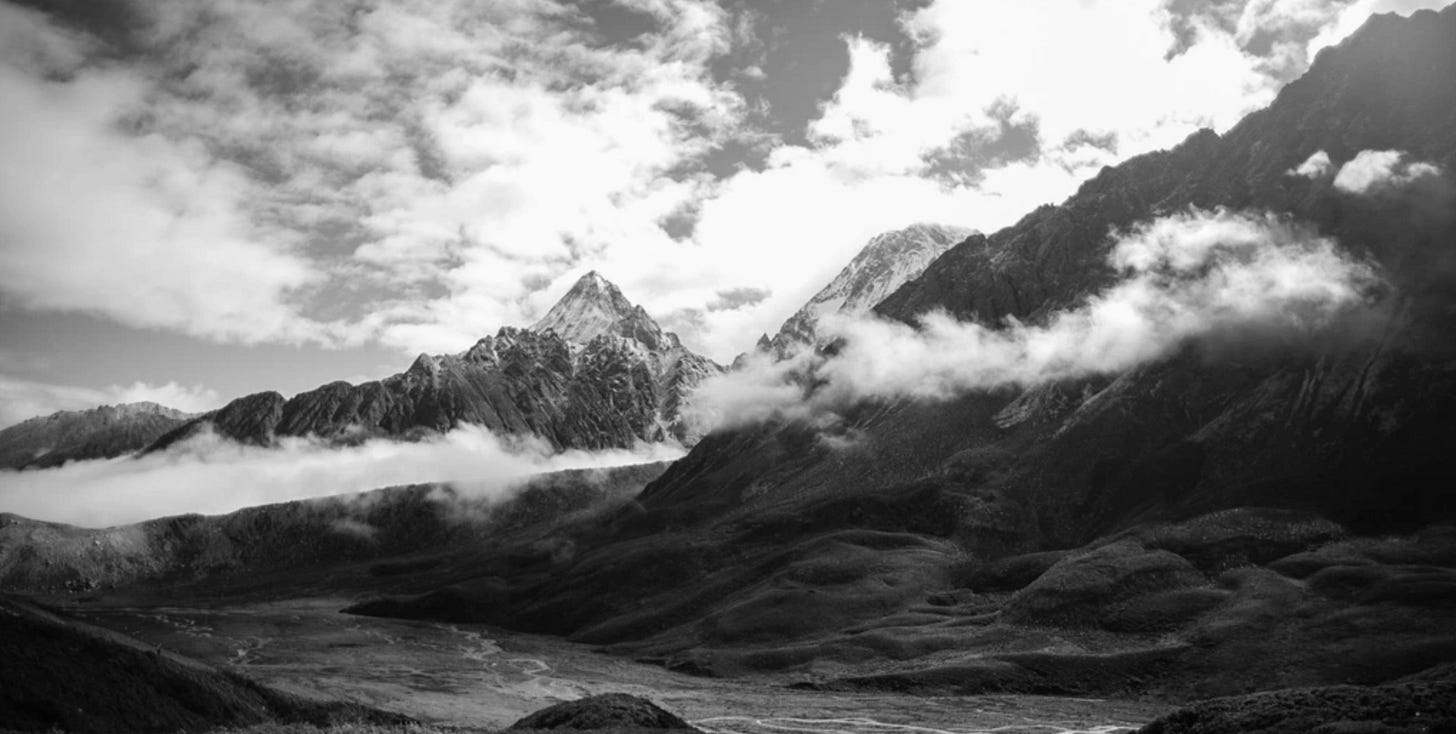 Above
: credit Jan Chipchase /
Studio D.
Together, we've crafted a survey with the intention of learning and developing resources centred around emotional resilience, based on a shared mutual belief in the deep importance of this work.
We have received some extraordinarily moving and heartfelt responses so far. It's becoming clear just how many in leadership positions feel isolated, overwhelmed and verging towards a state of burnout.
If you fit the description of a founder, leader or investor—please take some time to share your thoughts with us (it won't take more than 6-7 minutes unless you find it therapeutic to spend longer) and if you know any communities for whom this might resonate, please do hit reply or forward this newsletter on to them.
I will also be sending a curious humans care package from Bali as a thank you gesture to someone at random who fills this out 🙏
---
🔥 Breathwork, The Cure for Anxiety?
"How We Breathe is How We Think" – 

Ed Dangerfield
This might be the most powerful podcast conversation that I've recorded to date. If you haven't already heard of Breathwork, I think it's fair to say that you that you likely will have by the end of the year. It's exploding in popularity, in the same way that yoga and meditation has over the last decade, and I think for good reason.
On a basic level, breathwork is the practice of changing your breathing pattern to shift your mental, emotional and physical state... but what I deeply appreciate about Edward is his clinical approach that is backed by years of training, endocrinology research and self-experimentation mapping out the human nervous system.
The aim of this conversation was to create something of a comprehensive beginners guide to breathwork and some of the areas we dive into are:

🏂 Ed's personal journey from being trapped in an avalanche and nearly dying, which led him to being a highly functioning alcoholic and depressive.

🗺️ How he has been able to map certain emotions onto specific breathing patterns. 

🧙‍♂️ Insights gathered from living with the Canadian Tribal Elders 

😲 Some of the healing that he has witnessed in his time guiding sessions: from a man who re-lived and processed a near-drowning experience to powerful stories of women who have been able to process experiences of sexual abuse.

---
🤔 Three Reflections for the Decade Ahead
📆 Give Yourself Away // the first week of January is usually my time for future planning: who is the me that I want to become this year? What traits do I hope to cultivate, what experiences do I desire to feel, what creative aspirations do I dream of fulfilling. Instead I took a strategic silent retreat and spent the first few days in stillness, learning to give myself away.
❤️ An Ode to Friendship // Anais Nin once remarked that each friend 'represents a world in us, a world possibly not born until they arrive.' We see ourselves more clearly reflected in the eyes of another, the mark of friendship might be someone who lovingly reflects both your highest creative potential and your blind spots.
🙏 Reverse Gratitude // I believe most of us have the idea of 'gratitude' backwards. We're told that we ought to be grateful 'for' something (bonus points if you complete your 5 minute journal)—which is wonderful, but in my experience gratitude is more of an orientation—a flavour of awareness and a way of being. You might say gratitude is the happiness that doesn't depend on what happens.
---
🎙️ New Guest Episodes
One of the joys of hosting a podcast is that every so often, someone invites you to appear on theirs. It' fun surrendering to the mercy of someone else's questions, sometimes you overhear yourself saying things you didn't realise you knew. Here are a few that went live recently:
🔥 1 // I enjoyed a wide-ranging mind-meld with prolific creative Conni Biesalski which she appropriately title how to be a curious + whole human on her CREATE podcast.
🧠 2 // Shared thoughts on mental health with Taryn Raine on her 'Embracing Human' podcast.
🤔 3 // I talked about embracing radical curiosity on Matt Bowles's Maverick Show.
✊ 4 // Dropping in with Celine from the Sattva Soul podcast on the topic of emotional resilience and what this means to us both.
---
🔗 Et Cetera
✈️ Buy or wait?
🍌 Duct taped banana
👊 Quality & effort (via Seth)
🎺 Very unlikely instruments
🧘‍♂️ Top notch meditation tips
👩‍🚀 MIT built an empathy suit
🐦 Gorgeous guide to Twitter
🔍 In-depth guide to deep work
😲 52 fascinating factoids from 2019
🐶 Dog playing jenga (you're welcome)
🙈 Embarrassment leads to creativity
🍕 34,000 words on pizza toast (via Craig)
📆 2019 told six-word stories (via Twitter)
😋 Story of an automated food influencer
👊 Ewoks have the best fighting strategies
🐶 My Balinese friend Mr. Ketut goes viral
📆 Antifragile new year planning (via Taylor)
🗣️ The language you speak influences your attention
🙏 Advocating for buoyancy over burnout (via OnBeing)
---
🌘 Parting Poem
Lying under lunar limelight
Notice the jubilant firefly
Carving her signature
Into the thick of night.
–
Follow her phosphorescent line,
Up to a numinous thumbnail,
Cradling an Earth Shadow
Caught in a cobweb of stars.
–
Think of the ways in which
Your own shadow is revealed
By those, spinning in your orbit.
–
And how the world you inhabit is
Eclipsed by a thousand fragments
of projected, disowned Darkness.
–
–
Be still now.
Put down the weight
Of all that you know.
Recall your true nature.
As Sun. As Firefly.
Illuminate the cosmos.
Write your radiant love note
To the skies.